Contraceptive methods involving the administration of chemical substances are widely practiced among women who desire to limit pregnancies. Such methods control fertility through various biological mechanisms. Among the presently used chemical methods of fertility control, the most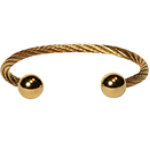 important are those which act by means of the following: (a) suppression of ovulation through inhibition of gonadotropin release; (b) alteration of the female reproductive tract to prevent migration of sperm to the site of fertilization or, if fertilization occurs, to block implantation of the zygote (nidation); or (c) spermicidal action.
Now there's the breakthrough Ovum Inhibitor technology. We're not even sure how it really works. Just wear it around your wrist.
Ovum Inhibitor
#010215 $19.99
[Item Temporarily Out of Stock]
Related Documents